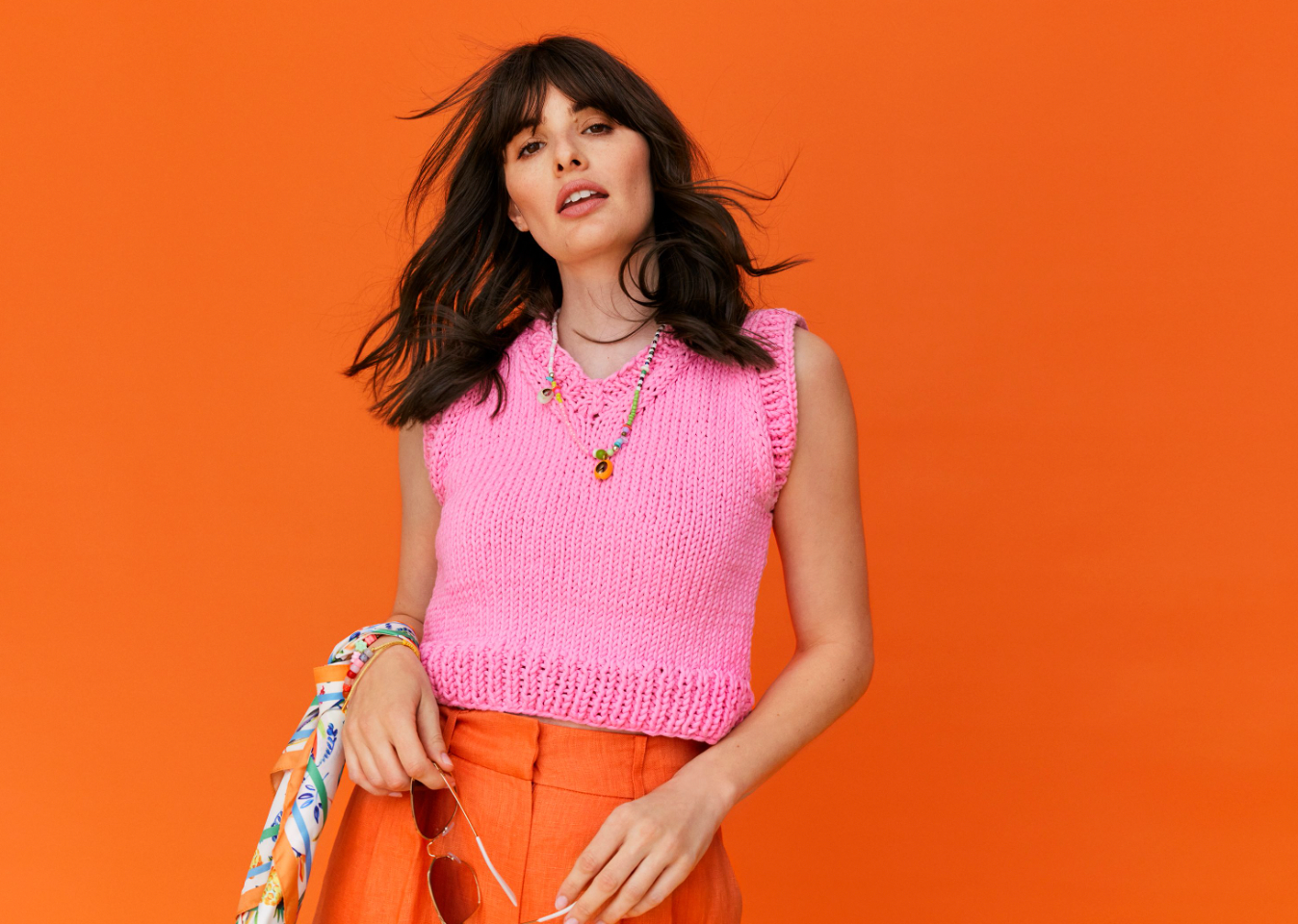 A step-by-step guide to knitting the Rosie Vest.
Ever gotten halfway through a project and thought "Hang on, am I even doing this right?"
We have 🙋‍♀️
That's why we've created these step-by-step guides to walk you through the knitting process. 
THE BASICS
If you're a total knitting newbie - WELCOME! 👋 Learning to knit can feel a bit like learning code. We've stripped away the complicated jargon and tried to keep things really simple so even the newest knitter can master the skill 🧶👩‍🎓
Before we get started on the pattern we suggest you spend a bit of time learning the basic stitches you'll need to complete your masterpiece (spoiler - there are only five!). You can use the yarn that came in your kit to practice with. Once you've got these mastered you'll find this pattern is a cinch! 
Click here to learn the basics
⚡️Let's get ready to rumble ⚡️
TEST YOUR TENSION
First thing's first. Before you start your project, make sure your tension (how tightly or loosely your knitting is) is juuuust right 🥣 We do this by knitting a "tension swatch". It's a bit like goldilocks, if the tension is too tight, your piece will be too small, and if it's too loose it may not hold its shape and might be too big. 
If done correctly, your 10x10cm knitted swatch should be 11 stitches wide and 16 rows high when knitted in stockinette on 6mm needles. 
To test your gauge grab your needles and chunky cotton yarn. Cast on 16-20 stitches, then knit in stockinette stitch (knit first row, purl second repeat) for 18-20 rows. Then measure your 10x10cm swatch and count the stitches and rows within your 10x10 square. 
Onto the knit
Remember, if you need a refresher on any of the techniques, check out our Learn to Knit page. 
SIZING
You can knit your vest in size 6-8, 10-12, 14-16, 18-20 or 22-24. Your pattern is read like this: 6-8 (10-12, 14-16, 18-20, 22-24). Make sure you're following the right instructions for your chosen size.
MEASUREMENTS
Laying flat, your finished piece will measure approximately:
6-8: 44cm wide x 51cm high
10-12: 50cm wide x 57cm high
14-16: 56cm wide x 61cm high
18-20: 61cm wide x 68cm high
22-24: 67cm wide x 68cm high
USING YOUR PATTERN
One of the things we found the hardest when we were learning to knit was keeping track of our rows. Before we were able to easily identify a row of stitches we used a pen and paper to keep track. That's why we've included handy circles in our patterns - you can tick them off as you go. The dashed circles are for the larger sizes. 
LET'S KNIT UP A STORM
We knit our masterpiece in pieces, starting with the back panel, and then the front. Once we have those knitted we'll sew the vest together and knit the ribbed armholes and finally the v-neck.
BACK
We knit the back panel from the bottom up.
STEP 1
Cast on your stitches. We recommend using the long-tail cast-on method when using the chunky cotton yarn. It's a lot easier to get the new stitches onto your needle. 
This is what it will look like when all your stitches are cast on.  
STEP 2
Complete 9 rows of rib stitch. Remember to move your yarn from the front to the back of your work as you alternate knit and purl stitches. 
STEP 3
You'll knit in stockinette stitch for the number of rows instructed. Stockinette stitch is made by alternating knit and purl rows. 
STEP 4 - 10
📉 Next, we're going to start to shape the piece for our arm holes. We'll do this by knitting some stitches together at the beginning and end of every fourth row. 
STEP 11
Okay, that's all our decrease rows done. Continue knitting in stockinette stitch until you've completed the number of rows your pattern instructs. 
STEP 12
Cast off all stitches and cut your yarn from the ball. Secure the last stitch by threading the tail through the stitch and pulling it to secure. 
Well done 💪 You've finished the back! 
FRONT
The front knits up the same way as the back until you get to row 53 (57, 65, 69, 69). At this point, we will split the front piece and knit up each shoulder separately. 
STEP 1 - 10
Repeat the same sequence as the back. 
STEP 11
We're going to knit to halfway along the row before flipping our work and purling that row again. 📉 Knit the instructed number of stitches then knit two stitches together and knit another two stitches.
STEP 12
Flip your work and purl those same stitches again. The rest of the stitches will just hang out on your needles, we'll come back to them once the first shoulder is finished.
STEP 13 - 18
You'll continue knitting this shoulder back and forth, decreasing stitches as instructed to get the shape around your v-neck and arm holes. This is what your piece will look like after 8 rows. 
STEP 19 (20)
Repeat the last 8 stitches again for a total of 16 stitches where we decrease for the v-neck. 
STEP 21
Knit in stockinette for the number of rows in the pattern. 
STEP 22
Cast off the stitches for your first shoulder 🚀
STEP 23 - 33
⚡️ Rejoin your yarn by tying a knot to the base of the stitch closest to the end of your needle. We're going to knit up the other side of your front panel. 
You'll knit up the second shoulder following the instructions and decreasing stitches to get the shape around your v-neck and arm holes. 
The front is F.I.N.I.S.H.E.D! 🥳 Have a stretch and give yourself a pat on the back. 
SEWING IT TOGETHER
Now it's time to get to work with the darning needle to sew your masterpiece together. We lay our pieces flat and sew them together.
STEP 1
Lay your front and back pieces on a flat surface, the right sides facing you. 
STEP 2
Sew the shoulder panels together using the invisible seam technique - start from the outer edge and sew inwards to ensure your neck hole is right in the middle. 
STEP 3
Fold your vest in half long ways with the wrong sides facing each other. Then sew from the bottom of the arm hole down to the bottom of the vest. 
ARMHOLES
We knit the armholes in the round - so we knit in loops, instead of back and forth as we have been.
STEP 1
Pick up an even number of stitches from around the arm holes. You'll want to pick up approximately a stitch for every 1.5 stitches around the raw edges. 
STEP 2
You'll knit rib stitch for the instructed number of loops.
Make sure you mark the beginning of your loop so you can keep track - slipping a hair tie over your needles works well. 
STEP 3
Cast off your stitches - make sure you don't cast off too tightly or you'll have very snug arm holes! 
V-NECK
The last thing we need to do is knit the ribbed neckline. We're nearly there... I can see the finish line! 💪🥳 We knit the v-neck in the round, like we did for the armholes. 
STEP 1
Pick up an even number of stitches from around the neckline. You'll want to pick up roughly one for every stitch around the raw edge of your neck hole.
STEP 2
You're going to use a stitch marker (or scrap piece of yarn) to mark two points around the neckline. Mark the middle stitch at the bottom of your neckline - that's the stitch right at the middle where you split your work. Mark the beginning of your loop (the place where you start knitting your first loop of rib) so you can keep track of how many loops you've knitted.
STEP 3
Time to start the ribbing! We want our marked stitch at the bottom of our v-neck to be a knit stitch, so we count back knit purl until we get to the beginning of our row. Make sure you start with the correct knit/purl stitch. Then you'll knit a loop of  rib stitch. 
STEP 4
Continue your second loop until you reach one stitch before your marked centre stitch. Slip your needle through these two stitches as though you're going to knit two together, and slip them onto your right needle. Knit your next stitch, and slip those two previous stitches back over your knitted stitch - in the same way you would if you were casting off. Continue your rib stitch to the end of the loop.
STEP 5
Repeat the last step one more time. 
STEP 6
Cast off your stitches. 
Weave in your loose ends using your darning needle. 
Time to rock your masterpiece 💪🔥🥳
Well done on finishing your knit! Epic job. We know from experience that there's nothing quite like that first time someone asks you where you got your knit from 😎
We'd LOVE to see how you go! Share your masterpiece with us by tagging @cardigang_knits on socials or by sending us an email at hello@cardigang.com.au 
Until next time! 😘🧶💕
Morgan & Cat xx
---