The 10 things I didn't expect when I started knitting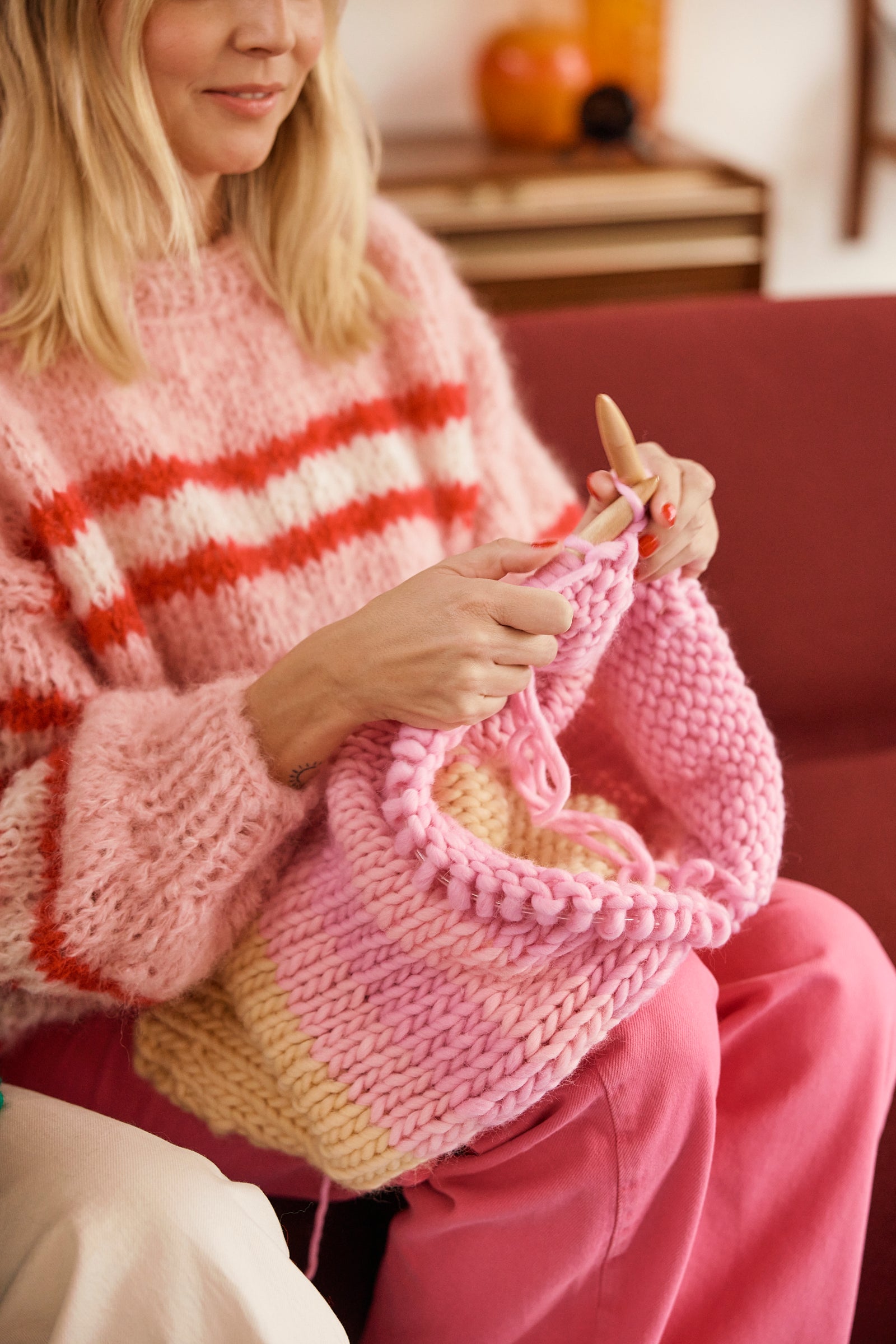 When lockdown hit in 2020 I was on the hunt for a new hobby, something new that would keep me entertained during the long lockdown hours. 
Being a reasonably creative person I'd tried my hand at a few hobbies in the past - ceramics, sewing, painting, jewellery making… the list goes on. But I'd never tried knitting. I didn't have a grandma who taught me to knit as a child and knitting a square for a class blanket wasn't on the curriculum at my primary school. 
So I came to knitting totally fresh. And boy, oh boy, did I feel like a fish out of water! 🥸 Once I decided I'd give knitting a go I jumped online and bought myself a 'knit kit' - a kit that would contain everything I needed to knit a bright pink, woollen jumper. When the kit arrived in the mail I opened it up excitedly and jumped onto YouTube to learn how to knit. 
I knew that this new hobby would challenge me, but I didn't expect it would have quite so much of an impact on my life. Spoiler alert 🚨 4 months later, Cat and I started Cardigang. But aside from being a new business venture for me, these are the ten things I didn't expect from my new hobby. 
Knitting is an exercise in mindfulness


Knitting helped with my anxiety, anxiety that was heightened during lockdown but that I have lived with for many years before. The repetitive nature of the activity calmed my mind and helped me focus. 



It's incredibly creative


I love that

 

you're only limited by your creativity when it comes to knitting. I only knew two stitches but I could create almost anything I could dream up. Even if a few attempts were a complete failure!



It helps improve your attention


My attention span, which was shrinking rapidly during covid, started to improve. It was a slow change but after a few weeks I noticed I could for hours knitting, not looking at my phone or being distracted by other things.



Knittings not just for nanas


There's a whole world of creative and inspiring knitters doing epic things with a set of sticks and some yarn. I love finding new knitters online and getting inspired by their creations. 



I've reassessed the time it takes for clothes to be made


Knitting has given me a new appreciation for the supply chain and where my clothes come from. I know the time and effort that goes into making a garment and now I think twice before making a fast fashion purchase.



Its helped me build connections 


Learning to knit gave me something new to connect with people over. From my mum who had learned to knit years ago and who I'd call up for advice, to my friends who also took up the hobby. 


Wool is just the best!
Wool is a natural fibre and has some amazing properties that I didn't realise until I started knitting with it. It's 100% biodegradable, naturally anti-bacterial and renewable. 



Staying at home has become a pleasure


Even when we could start to do more and life began to get back to normal I found that a night in was a joy that I looked forward to. I now make sure I've got the time to just sit and knit and I don't feel like I need to be out every night of the week. 



You can fall asleep mid-knitting


True story. 



Knitting's not just a winter activity


I now knit all through the year. I've discovered new yarns and worked my way down to using smaller needles (as a beginner I think that a chunky needle is sooo much easier to knit with) and I'm loving creating styles for every season.

 
I'd love to hear your knitting stories. What did you discover that you didn't expect when you learned to knit? 
Cosy vibes ✌️
Morgan xx
---