Cardigang X OBUS Together Beanie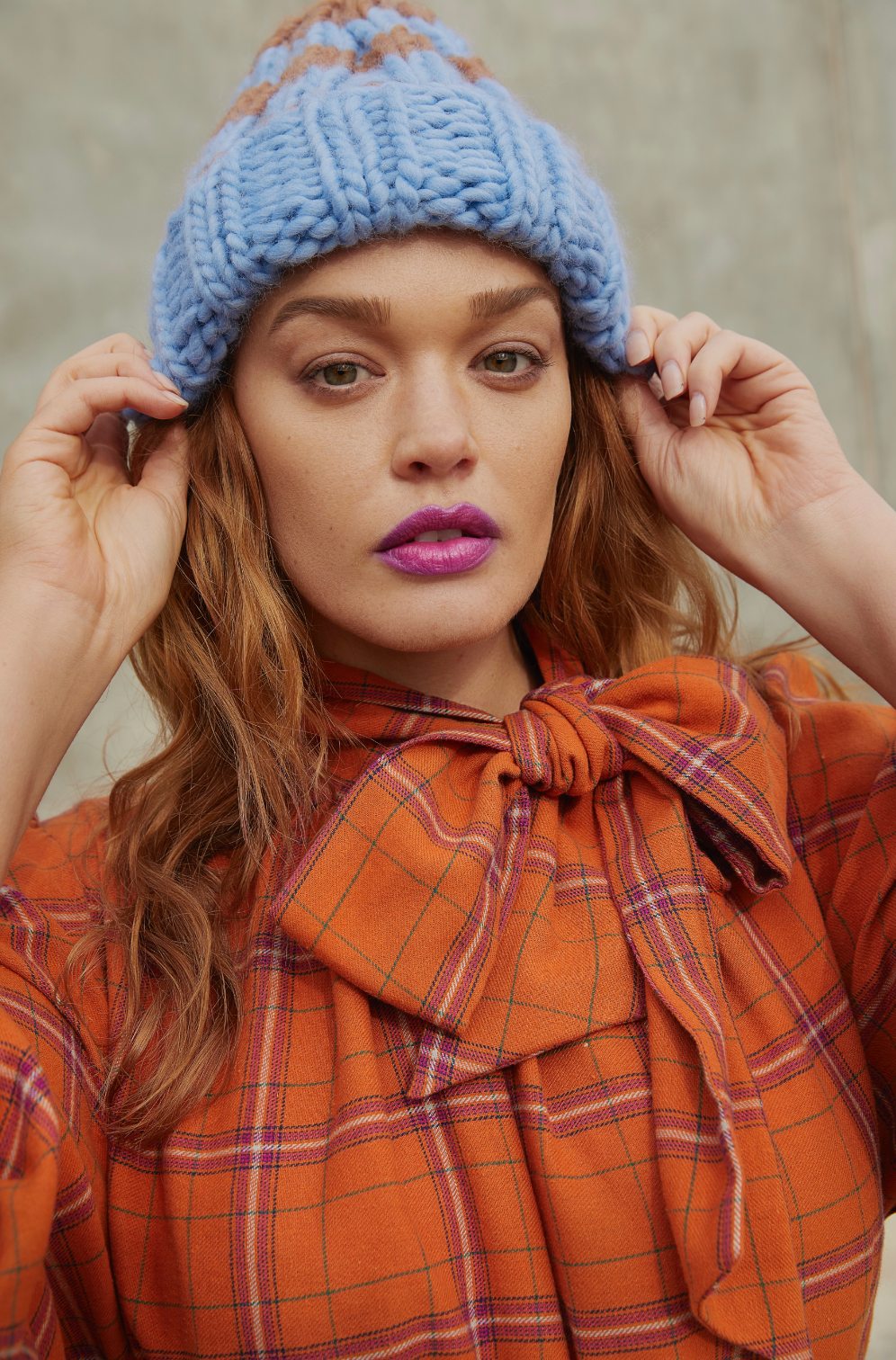 A step by step guide to knitting the Together Beanie. 
Yeah, babe! You just earned yourself (humble) bragging rights. This super special Cardigang X OBUS Together Beanie will make you feel like a total fox - and cosy too. 
Add a little magic to any outfit with the stripy Together Beanie. The cherry on top that will keep your noggin toasty warm. Knitting this beanie feels like the first time you rode your bike with the training wheels off - liberating. 
If you're a total knitting newbie - WELCOME! 👋 Learning to knit can feel a bit like learning code. We've stripped away the complicated jargon and tried to keep things really simple so even the newest knitter can master the skill 🧶
Let's get ready to rumble.
Your kit comes with all the gear you need to knit this cosy masterpiece. This includes super soft and chunky 100% Aussie Merino Wool, your knitting sticks (needles), a darning needle (to sew your beanie together), a handy little 'made by me' tag to affix to your creation and the all important pattern. 
Our Chunky Merino is fine and fluffy and she should be treated well. She'll pull apart if you put too much tension on her, so be gentle, friend. 
Pick up the sticks, babe.
Whether you're a never-knitted-before knitter, or a purl-stitch pro, It's a good idea to learn/refresh yourself on the basics before you start your masterpiece. You can use the yarn that came in your kit to practice with. The video below covers every technique you'll need to learn (spoiler - there's only 5!). Learn how to cast on, do a knit stitch, a purl stitch and put them together to create a rib stitch, lastly, we learn casting off. Once you've got these mastered you'll find this pattern is a cinch! 
💭 For more detailed videos of each technique, head down a little further where we've got specific videos for each stitch type.
Stitch happens 😵
When you're learning to knit (and even when you've mastered some of the skills) stitch happens. Things go wrong, you make a boo-boo. Don't stress! Learning a new skill can be a little challenging at first, and you're bound to find yourself making some mistakes along the way. But as with learning anything, your brain and your hands slowly start to get the hang of it, muscle memory is created, and soon the thing you found tricky/daunting/scary is like second nature! 
If you get stuck, reach out to us and we'll give you a (virtual) hand! 😎⚡️💪
TEST YOUR TENSION
Before you start your project, you should make sure your tension (how tightly or loosely your knitting is) is juuuust right 🥣 We do this by knitting a "tension swatch". It's a bit like goldilocks, if the tension is too tight, your piece will be too small, and if it's too loose it may not hold its shape and might be too big. 
If done correctly, your 10x10cm knitted swatch should be 7 stitches wide and 9 rows high. To test this, jump on your needles, cast on around 12 stitches, then knit in stockinette stitch (row 1 knit, row 2 purl) for around 10 rows. Then get a measuring tape and measure out 10x10cm and count your stitches and rows to make sure you're knitting at the correct tension. 
THE TECHNIQUES YOU'LL MASTER
CASTING ON
Casting on is the first step in any project. It's the term we use for getting the wool onto our needles! We recommend using the two-needle technique as it's one of the simplest methods. Two-needle cast on uses your two needles (surprise!), starting with a slip knot on your left needle, each stitch is knitted to form a new loop and this loop is then added to your left needle. You repeat until you've made the desired number of stitches. 
💭 Casting on, like many things in knitting, can be done in a number of ways - our suggestion is a simple technique but you can pick any that's right for you. 
KNIT STITCH 
This handy little stitch makes up the backbone of most knitting patterns. Each knit stitch looks like a little 'v'.
PURL STITCH 
The second most common stitch, purl stitches look like little bumps (or purls!). You knit a knit stitch with your yarn tail at the back of your work and your needle going into the back of the stitch, the purl is the opposite, so your yarn tail is at the front of your work and your needle goes into the front of the stitch. 
RIB STITCH
A rib stitch is a textured pattern usually used on the cuffs and necks of jumpers. It's made by alternating knit and purl stitches in the same row, then knitting the same stitch sequence in the next row. In this pattern we use a 2x2 rib stitch. That means we'll knit two stitches, then purl two, then knit two, then purl two... 
KNITTING IN THE ROUND
Knitting in the round is where we use our circular needles and knit continuously in loops, rather than back and forth in rows (like a lot of beginner patterns do). Now don't worry! It's not anywhere near as hard as it sounds. When knitting in the round, you're always knitting on the "front" side of your work so you don't need to turn the piece to knit on the "back" side. Plus, you don't need to sew your beanie together at the end! 
REDUCING STITCHES
We reduce the number of stitches on our needle by knitting or purling some stitches together. This simply means we put our right needle into the second stitch on your left needle and collect both the first and second stitch and knit them as you would a single stitch. 
OKAY, LET'S KNIT UP A STORM! 
We knit our beanie in the round and then secure the final stitches with our darning needle. 
First, we cast the required number of stitches using your 10mm circular needles. Once all our stitches are on our needle we'll join our loop - jump back up to our knitting in the round video for a refresher if you need. 
💭 Keep track of the number of loops you've knitted by marking the first stitch of each loop. You can slip a hair tie or stitch marker (anything round) onto your right needle and at the end of each loop, move the marker from your left needle onto your right, and keep knitting.
Then we'll knit in 2x2 rib stitch for the required number of rows/loops. Remember a 2x2 rib stitch means we knit two of each stitch at a time - Knit, Knit, Purl, Purl, Knit, Knit, Purl, Purl. Remember to move the tail of your yarn from front to back/back to front when you change stitch type. 
📍Use the circles in your pattern to mark off each completed row/loop. 
🧶 You'll see throughout the pattern we change yarn colours a few times. Changing your yarn is easy. When you get to the end of the row/loop, you simply secure the end of the old and new balls together by tying a loose knot with the new yarn around the tail of the current colour and sliding it up to the needle. Tighten the knot at the needle and start knitting the new row with the new colour yarn. 
Knit, knit, knit 🏋️
📉 When you get to row/loop 33 you're ready to start decreasing the number of stitches in a row by knitting some stitches together. For a refresher - jump back up to the video on reducing stitches. 
You'll alternate a decrease row with a standard row and follow these instructions for the next 5 rows. 
We're almost finished now! 💃🚀
You'll have 10 stitches left on your needle. We're going to grab our darning needle to secure these and complete the beanie. 
Cut about 20-30cm of yarn from the remainder of your ball. Then thread the darning needle with the yarn tail and use the needle to pick up (thread through) those remaining stitches. Slip the stitches off your needles and secure the top of your beanie with your darning needle by threading the needle back and forth a few times through the top of your beanie. Secure with a knot on the inside. 
The last thing we do for every piece is weave in the ends. That's basically just tidying up the piece so all loose ends are trimmed down and tucked in.
FINITO! You are done! 💪🔥🥳 Time to rock that baby out and about 😎
Care for your cardi 💕
Once your fabulous beanie is complete you'll want to take care of her. Handmade knits need hand washing.
Wash your knit by hand, in cool water with a wool detergent and don't leave her in the water for too long. Roll in a clean towel to remove excess water and dry flat out of direct sunlight.
💭🧼 TIP! Did you know that wool is 100% biodegradable,  naturally antibacterial and stain-resistant? It's also naturally elastic, returning to its original shape after wearing. These magical properties mean you don't need to wash your woollen garments very often, in fact just a bit of fresh air and a lay down can be as good as a wash.
Share the love.
We'd LOVE to see how you go! Share your masterpiece with us by tagging @cardigang_knits and @obusclothing on socials or by sending us an email at hello@cardigang.com.au 
Until next time! 😘🧶💕
Morgan & Cat xx
---