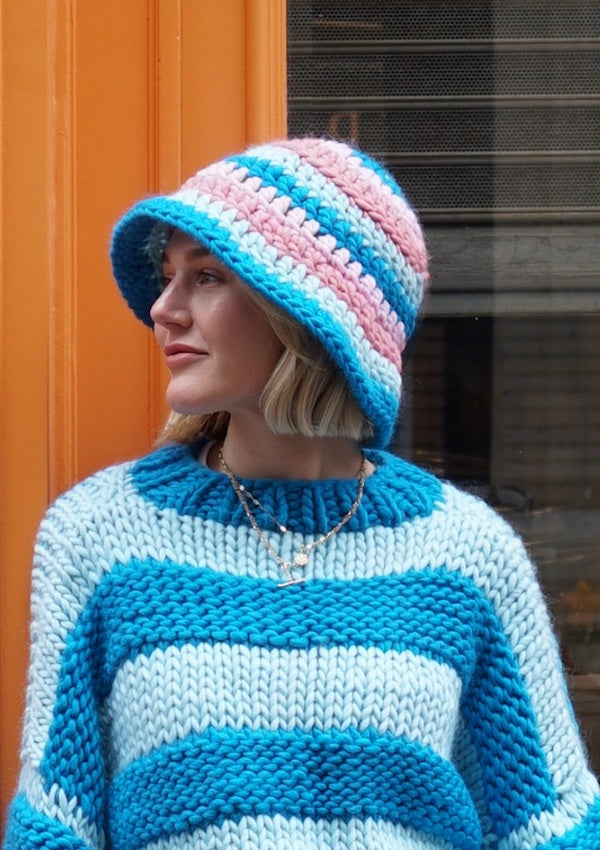 A step-by-step guide to crocheting the Coco Woollen Bucket Hat
Rainbow and crochet? Pray. 🙏 Keep that cute head cosy with the perfect winter bucket hat. You'll be ready for winter, and ready to wow the pants off your friends and family with your marvellous woolly creation.
Whether you're a complete beginner or have some experience, this guide will help you crochet a bangin' beginner bucket hat and the best part? You only need to know one type of stitch!
Even if you've never crocheted before, we'll take you from zero to hero in no time 🦸‍♀️
When it comes to crochet, practice makes perfect
Before we start the pattern, we suggest you spend some time learning the basic stitches you'll need to complete your hat. 
The Coco is made in double crochet stitch. You'll want to be confident with this stitch before you start 🧶 You'll also want to get a hang of making a magic ring which is what we use to start our hat.
You can use the yarn that came in your kit to practice with. Once you've got these mastered you'll find the pattern a cinch! 
Total beginner? 👩‍🏫 
For a more comprehensive lesson on the basics of crochet visit our Learn to Crochet page. 
💪 Remember learning a new skill can be a little challenging at first, and you're bound to find yourself making some mistakes along the way. But as with learning anything, your brain and your hands slowly start to get the hang of it, muscle memory is created, and soon the thing you found tricky/daunting/scary is like second nature! 
Time to switch off. Stitch on. And whip up your cosy crochet beanie.
⚡️What you'll need
Your kit comes with everything you'll need to make your masterpiece. In your kit you'll find;
8mm hook
200 grams of Cardigang Chunky Merino Wool
A darning needle
Made by me tag
You also want to have a pair of scissors handy. 
🌈 Your kaleidoscope of colour
You'll have equal amounts of your 4 colours so it's up to you which order you make your hat in. Just make sure that you complete 2 rounds in each colour 🚀
We start by making a magic circle with our chunky merino wool in colour 1. 
Follow the pattern's instructions to complete the first round of double crochets. You'll have 10 stitches by the end of the round. 
In this round, we're going to change the angle of our stitches by inserting our hook into the back bar of our stitches only. 
This will give us the shape and angle we need to crochet the sides of our hat. 
Complete another two rounds of standard double crochet into each stitch. 
Time to change the angle again to direct our stitches outwards away from the head for the brim of the hat. To do this we will insert our hook into just the front loop of our stitches for this row. 
We've hit you with a double-whammy here because you're also going to increase stitches in this row 😎
Continue increasing your stitches in the final 2 rounds as the pattern instructs. 
Once you've finished your last round, fasten off. 
🎬 Watch Fasten Off
D.O.N.E! You've finished your bucket hat, well done! Epic work 🤩 If this was your first-ever crochet project or one of many, we hope you had a blast making your masterpiece 💥❤️
In a bind and need a little more help?
Sign up for a one-on-one knitting or crochet session with the Cardigang Hotline ☎️. These sessions are designed to help give you the skills you need to create a masterpiece. Whether you're just starting out, or you've got a specific question or problem (dropped a stitch, no stress!), we're here to get you out of a bind.
---