Knitting Vs Crochet: The great debate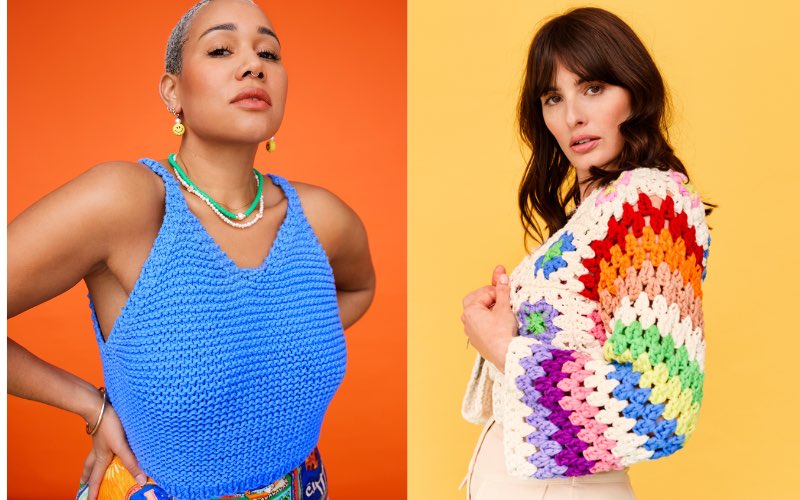 Hook or sticks? 
If you talk to a knitter you'll likely hear them say 'How the heck do you make something with a hook?!' If you talk to a crocheter, they'll tell you the idea of welding two sticks is mind-bending. 
It's a debate as old as the craft itself and here at Cardigang we've delved deep into the topic. 
Having recently taught ourselves to crochet (2 years after teaching ourselves to knit) the topic of which skill is superior has been debated at length! 
While the results are similar, the techniques are actually quite different. With knitting, you wield two sticks (needles) to create your masterpiece, whereas crochet uses a single hook. 
So which technique is better suited to someone thinking about learning the craft? (Hint: BOTH!)
It's commonly accepted that learning to crochet is easier than learning to knit because you've only got one active stitch at a time, this makes your work easier to manage and mistakes easier to fix. Crochet: TICK!
However, knitting uses just two basic stitches, the knit stitch and purl stitch, to create most patterns. Once you've learned them you're able to tackle a huge number of patterns. Crochet has more types of stitches and often beginner patterns don't rely on the same set of basic stitches. Knitting: TICK!
Knitting is more suited to a wider range of clothing because it's softer and finer. Crochet tends to use more yarn than knitting, and the resulting work is often more structures making it perfect for things like bags. DRAW!
When it comes to speed, crochet is often quicker than knitting but with our chunky yarns, regardless of the craft, you'll be whipping up masterpiece after masterpiece in a flash. DRAW!
Conclusion
If you ask us, both are deceptively easy! All it takes is a little perseverance, a willingness to learn and the right gear (ahem, a Cardigang Kit). 
Regardless of whether you're loyal to the sticks, the hook, or neither, we make it easy to flex your craft creds and learn a new hobby with our Knit and Crochet Kits.
---