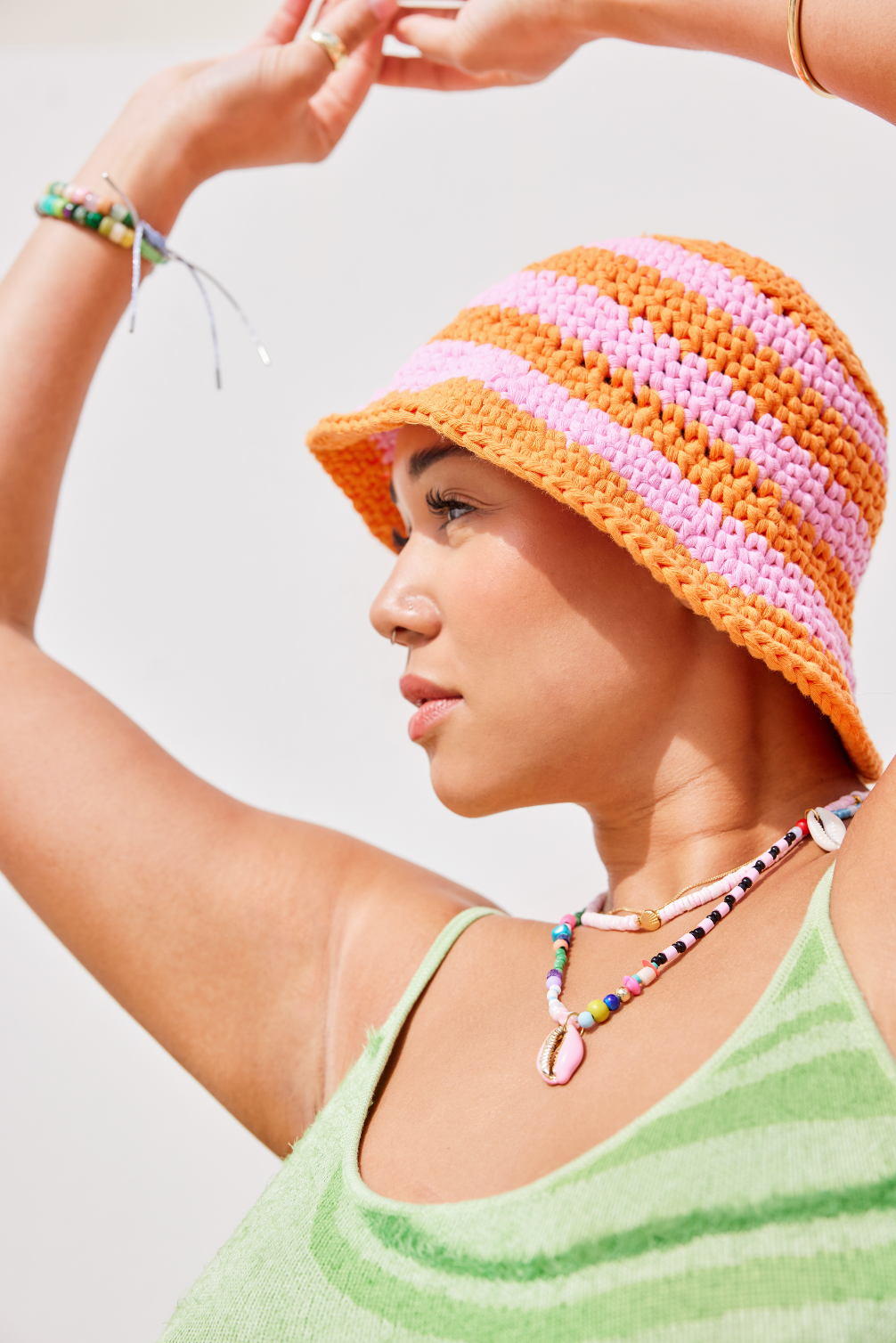 A step-by-step guide to crocheting the Sunny Bucket Hat. 
Ever gotten halfway through a project and thought "Hang on, am I even doing this right?" We have 🙋‍♀️
That's why we've created these step-by-step guides to walk you through the process. 
Don't let the fancy French name put you off. Even if it's your first foray into crochet, everything's going to be ok with our step-by-step tutorials.
When you first look at a crochet pattern it can be pretty overwhelming, but here's a little secret... You really only need to learn a few stitches and you can make anything! So strap in and let's learn to crochet 💪
TOTAL BEGINNER? Start here first!
If you're a total beginner to crochet, we suggest you jump into our guide on learning the basics before you start your project. 
PRACTICE MAKES PERFECT
Before we get started on the pattern we suggest you spend a bit of time learning the basic stitches you'll need to complete your masterpiece. The Sunny Bucket Hat is made using single crochet stitches so you'll want to be confident with these before you start. You'll also want to get a hang of tying a slip knot and chaining on your stitches which is the first step in any crochet project. 
📹 Watch How To Tie A Slip Knot.
📹  Watch How To Chain.
📹  Watch How To Single Crochet. 
You can use the yarn that came in your kit to practice with. Once you've got these mastered you'll find this pattern is a cinch! 
...
Looking for something a little more personal? 
Sign up
for a one-on-one knitting or crochet session with the
Cardigang Hotline ☎️. These sessions are designed to help give you the skills you need to create a masterpiece. Whether you're just starting out, or you've got a specific question or problem (dropped a stitch, no stress!), we're here to get you out of a bind.
...
TEST YOUR TENSION
First thing's first. Before you start your project, make sure your tension is juuuust right 🥣 We do this by making a "tension swatch". It's a bit like goldilocks, if the tension is too tight, your piece will be too small, and if it's too loose it may not hold its shape and might be too big. 
If done correctly, your 10cm x 10cm swatch will be 10 stitches wide and 12 rows high when worked on a 6.5mm hook.
To test your tension, you'll want to grab your yarn and hook and crochet a swatch in single crochet stitches. Chain a few more stitches than the gauge should measure, then single crochet until your swatch measures just over 10cm high. Grab your measuring tape or the card that came in your kit and count your stitches and rows to check that your tension is right.
📹  Watch our How To Count Your Stitches And Rows Video
If you've got more stitches or rows than you should have, your work is a little too tight, and if you've got less your work is too loose. Adjust your tension by holding the yarn a little more tightly/loosely as you crochet.
💡 We know making a gauge swatch can seem like a bit of a drain, but it's really important because the difference of a few millimetres in a gauge swatch can lead to a finished piece this is quite different in size to what you intended. 
MEASUREMENTS
Your finished hat will measure approximately 24cm from the middle of the top of the hat down to the edge of the brim, and 27cm across (when lying flat).
LET'S WHIP UP A MASTERPIECE
Your pattern is written in U.S terms.
🌈 It's up to you how you'd like to use both of your colours. The easiest will be to crochet until you run out of your first colour, then swap. Or you can swap colours every 3 rows to create the stripey pattern you see in our photos.

💭 Make sure your use your stitch marker to mark the first stitch of every row so you don't lose track of where you're up to.
ROUND 1
To start, tie a slip knot.
📹 Watch How To Tie A Slip Knot
First, we create a magic circle. 
📹 Watch How to Single Crochet Into A Magic Circle Loop
ROUND 2
We'll work to create the top of the hat by increasing stitches as we go.
📹 Watch How To Increase Stitches
ROUND 3

ROUND 4
ROUND 5
ROUND 6
ROUND 7
ROUND 8
Single crochet into the back loop of your stitches for this round. This will help us to get the angle or edge of our hat. 
📹 Watch How To Single Crochet Into The Back Loop
ROUND 9 to 18
Follow the instructions to complete the side of the hat. 
This is what your work will look like after round 13. 
ROUND 19
Time to do the brim of your hat. In this round, you'll crochet through the front loop only. This helps us change the angle of the stitches again so that the brim angles outwards. 
📹 Watch How To Single Crochet Into The Front Loop
ROUND 20 to 25
We'll crochet the brim following the instructions in the pattern. 
ROUND 26
Yay! You're up to the last round 🥳 Single crochet into every stitch, then slip the last stitch and fasten off. 
FINISHED! 
Time to rock your masterpiece 💪🔥
Well done on finishing your bucket hat! Epic job. We know from experience that there's nothing quite like that first time someone asks you where you got your creation from 😎
We'd LOVE to see how you go! Share your masterpiece with us by tagging @cardigang_knits on socials or by sending us an email at hello@cardigang.com.au 
Until next time! 😘🧶💕
Morgan & Cat xx
---